Over 3 million pieces of plastic removed through product purchases.
Organic Catnip
Remove 10 pieces of plastic!
Treat your cat to the finest USDA-certified organic catnip!
Catnip is known to give cats a burst of energy. Lightly sprinkle it on scratchers, kitty caves, beds, or on their favorite toys, and enjoy watching them purr, roll, meow, and play for hours!
A pinch of this irresistible and potent catnip goes a long way. Harvested fresh at the highest peak of the season, ensuring the best plant quality for catnip essential oil. Packaged in a recyclable tin. 
Contains: 100% Certified USDA Organic Catnip.

All Natural: Free of toxic fertilizers, pesticides, and sprays.
Made in the USA.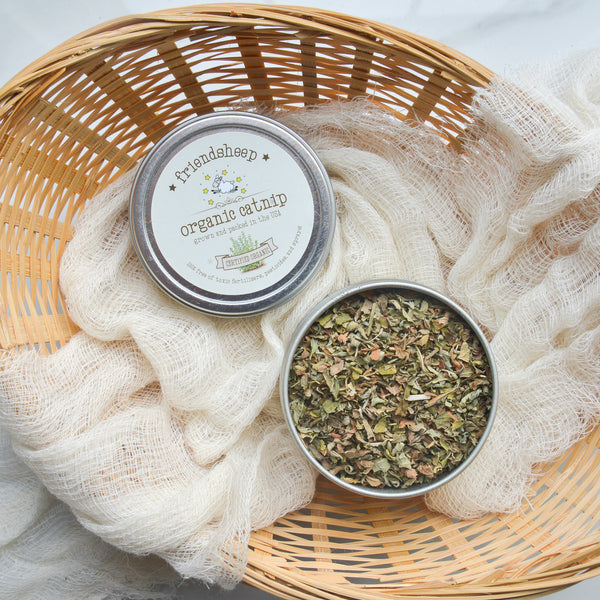 Catnip Capers
I have 8 cats. Not all of them like catnip. But Cali-o-pea loves it. She enjoys her nips so much and rolls all over the carpet. This is a great product....
Catnip is a Hit
My cat loves catnip, and she absolutely LOVED this. I get just as much of a kick giving it to her as she does enjoying it. I will definitely be buying more of this.
Catabulous!
Makes me feel that way too! You've reminded me they would love to have some meow Now! And, they love it! Thank you for it! You're doing a great service!!!
KITTY IS HAPPY
I like the sealable container versus a plastic bag. The minute I opened it she could smell it across the room oh, so very fresh!
Organic Catnip
It has a good smell and the cats love it.
It must be good.