Over 3 million pieces of plastic removed through product purchases.
Dish Soap Bar
Remove 10 pieces of plastic!
Say goodbye to the bottle and hello to the bar!
Handmade in Canada from vegan ingredients, this solid dishwashing bar cuts through stubborn grime and grease on dishes, pots, and pans, while also being gentle on your hands and the environment.
This dish soap bar also removes stains from laundry, spot-cleans carpets, and removes labels from jars. It's safe to use on porcelain, stainless steel, stone, and glass.
All Natural: Unscented and free from phosphates, sulfates, parabens, and palm oil, and is septic and greywater safe.
Long lasting: One 6 oz bar can last one person up to 6 months and replace up to 3 bottles of typical liquid dish soap.
Sodium Cocoyl Isethionate (plant-derived), Decyl Glucoside (plant-derived), Sodium Cocoate (plant-derived), Quillaja Saponaria (from the South American soap bark tree - organic), Glycerin (plant-derived), Aloe Vera Leaf (organic), Purified Water, Sodium Carbonate (mineral-derived)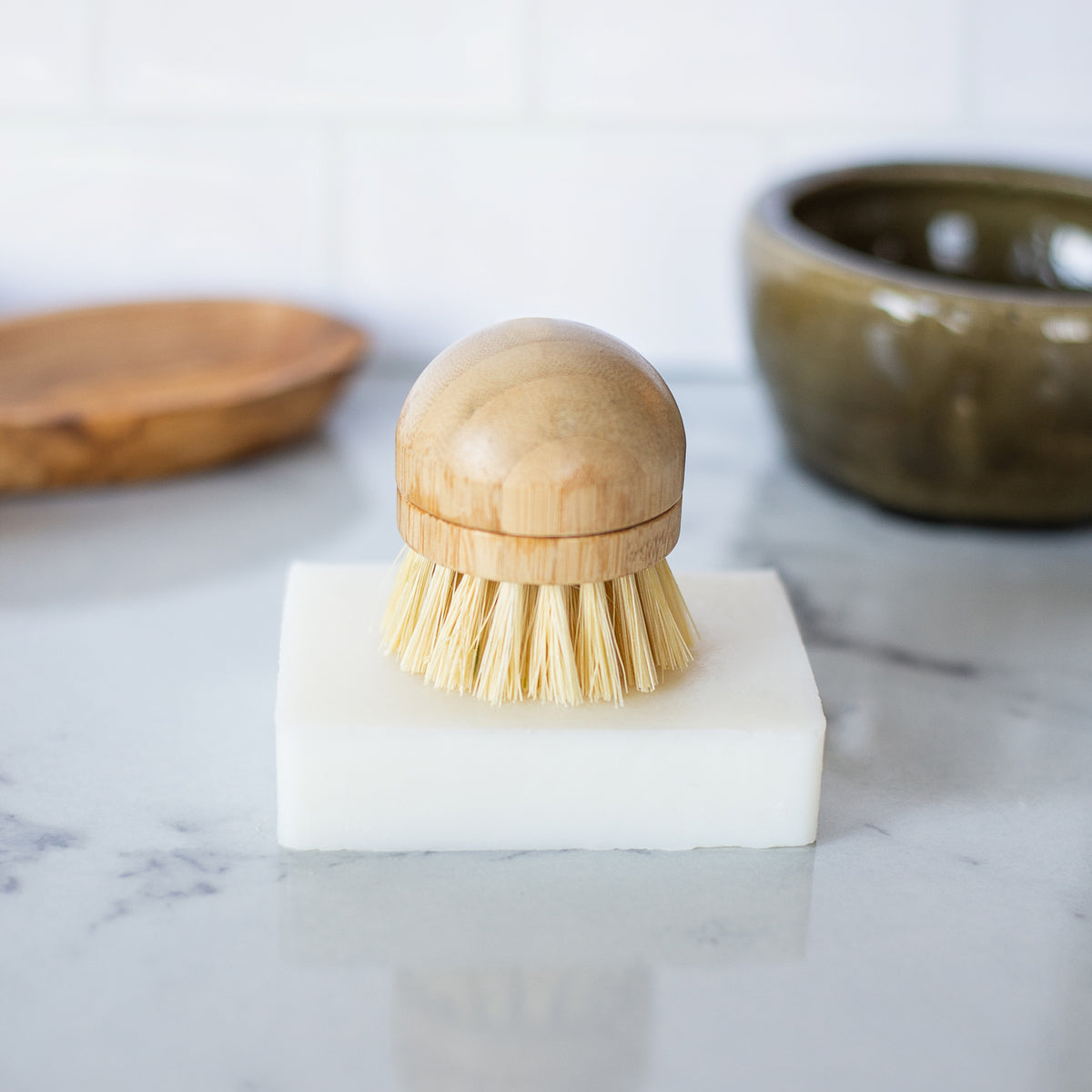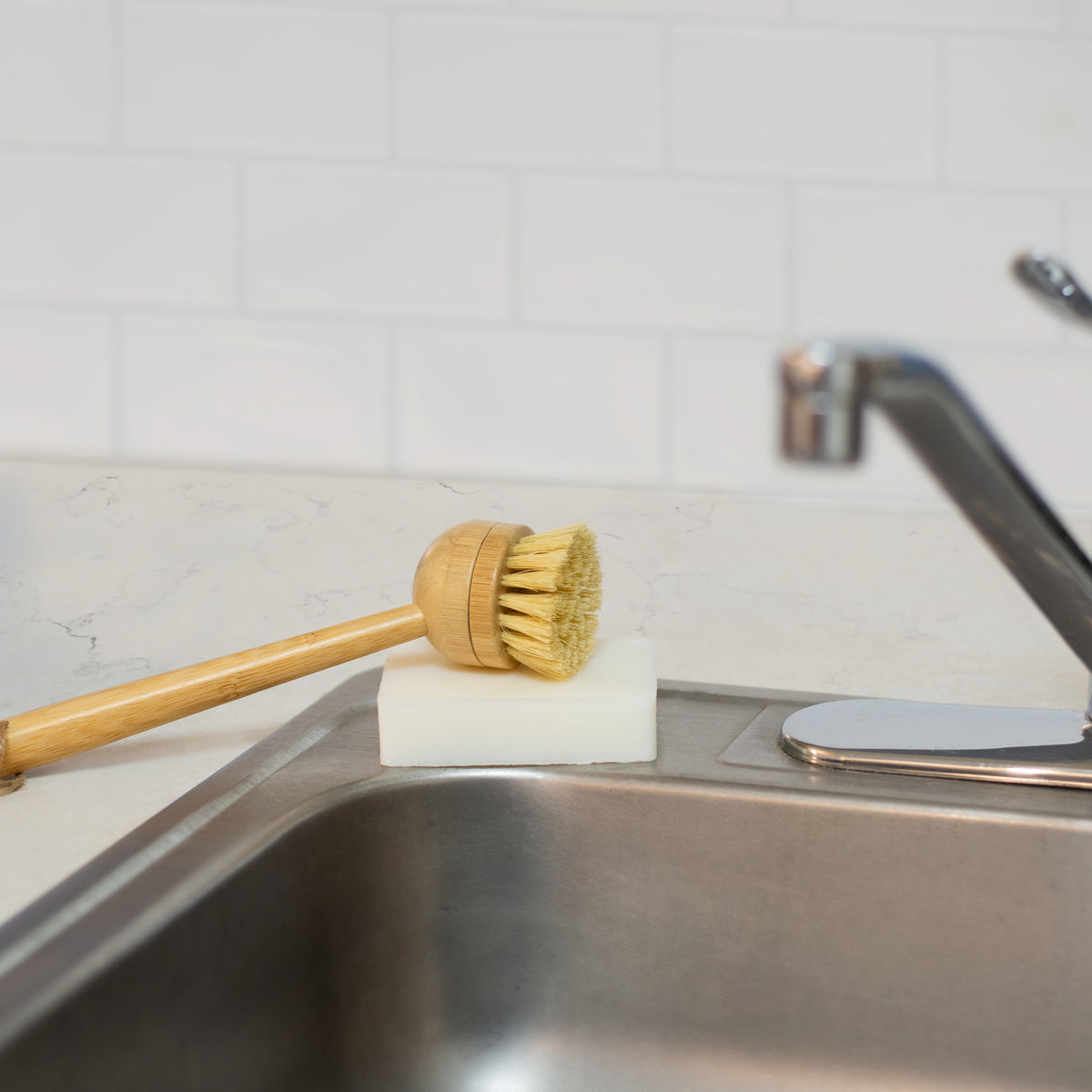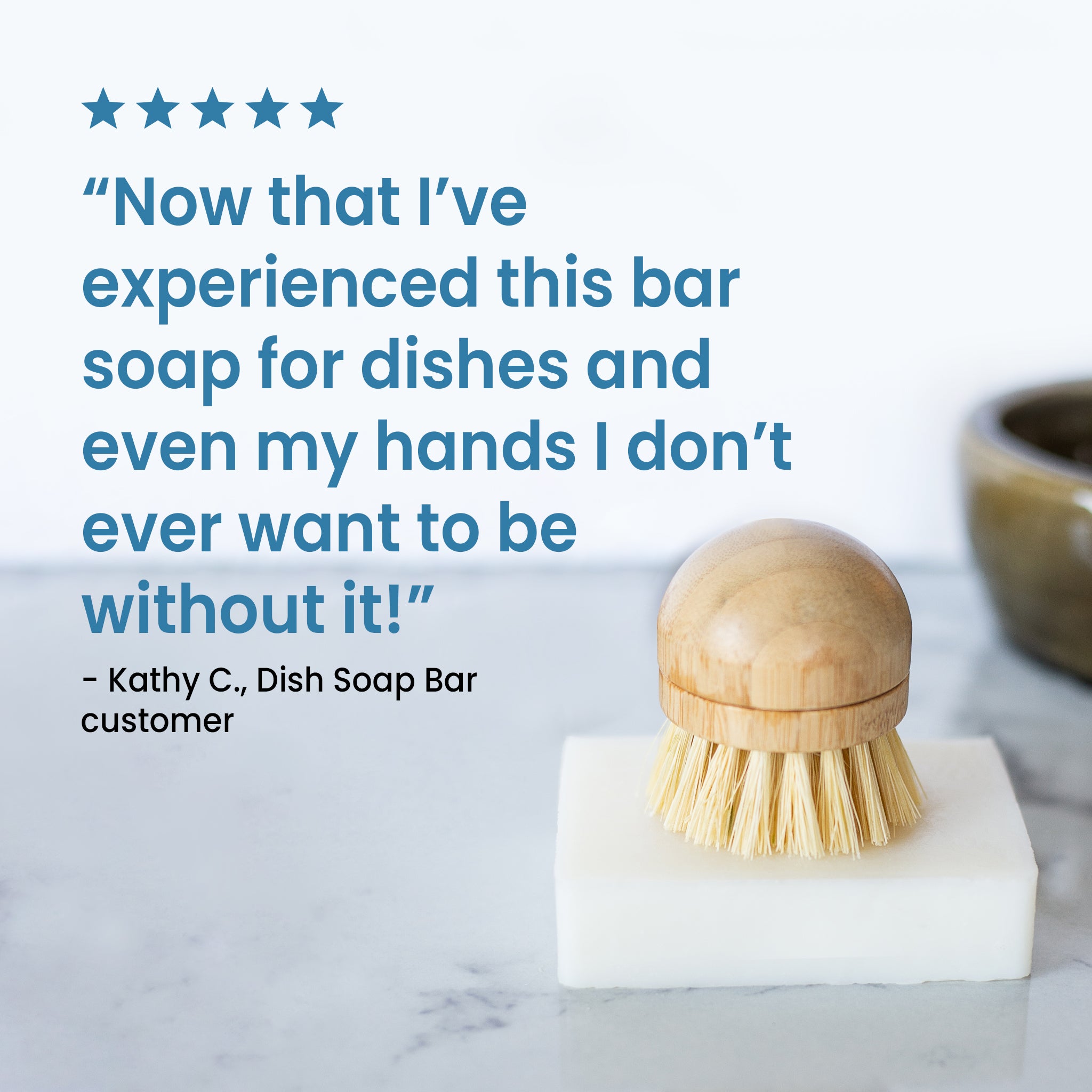 Better than liquid soap!
I've been using the vegan dish block for a while and it is super sudsy and washes everything well. I'm now in the habit of rubbing my brush or sponge on it instead of squirting liquid soap, and I rub the block directly on my pots, pans, and cutting boards.
Washing dishes
Love the stuff…..so easy to use and gets my dishes really clean especially my cat dishes with no more worries about toxins! Thank you so much🙏
Vegan Dish Washing Block
I like it because it's handy-no squeeze bottle-and it's soapy-plenty of soap for dishes. Good product. I'd buy it again.
Disappointed 😢
I was very excited to try this product, given the good reviews. However, as another poster mentioned, it leaves a film on the dishes and in the sink which I was not happy about. Yes it does cut down on plastic use, cuts grease fairly well, and helps save water, but so does a bar of Ivory soap that costs less. I don't think we'll be ordering it again.
So easy!
I keep this dish soap bar in a deep soap dish by the sink. I run my damp sponge over it and it cleans the dishes and pots I hand wash easily and well. I like that it doesn't have a heavy scent, rinses clean quickly, and lasts a long time. And of course, I love it because it's plastic free!