Over 3 million pieces of plastic removed through product purchases.
100% Natural Dog Shampoo Bar
Remove 10 pieces of plastic!
Pamper your pooch with this vegan, 100% natural, plastic-free Dog Shampoo bar!
Handmade in England and scented with peppermint, tea tree, citronella, and lavender. It also contains neem oil for a healthy, shiny coat, and natural plant extract flea repellants.
Illustrated with cute canines, this a great gift for your dog-loving friends. To use, apply directly to a wet dog or apply to a sponge or soft brush first, then rinse and dry.
Olive oil, aqua, coconut oil, sustainable palm oil, castor oil, neem oil, lavender essential oil, citronella essential oil, peppermint essential oil, tea tree essential oil, natural clay, linalool.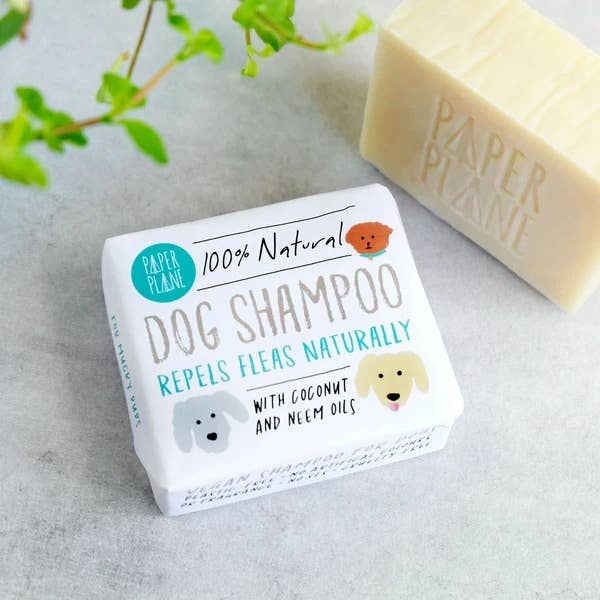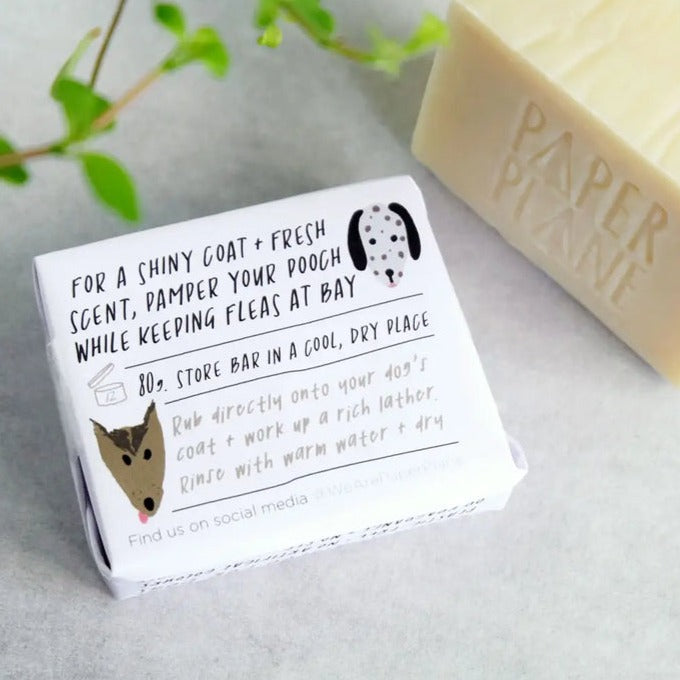 Easy To Apply, Works Great!
I threw this shampoo bar into the cart just as an experiment. We took our pups out for a nature walk and one came back in desperate need of a clean, so into the shower he went! The bar form made it easy to apply - just like petting but with shampoo in hand. It foams well, cleans well, and leaves a lovely scent. Caleb (the dog) didn't object and came out clean. Five stars.
Great Idea!
I was skeptical about a bar soap for dogs, but after using it I now wonder why more companies don't make a bar soap. The application is easier with a bar of soap than having to try to squeeze the shampoo from a bottle while keeping a dog in the bath. This soap gets very sudsy and my dogs love what they think are extra rubs when actually they are getting lathered up. It smells great and the smell stays on the dogs for a few days. It's not overly perfumy. I doubt I ever use anything else to bath my dogs.
gave these to a dog-owner friend, waiting to hear...
I've been impressed with all of your other products, so likely safe to assume these work well too. I'm a cat owner, & am waiting to hear from my dog-owner friend...
My new favorite dog shampoo
I love this shampoo for our dog so much! I honestly can't imagine going back to anything in a bottle, this is just so convenient especially with a squirmy pup!
Great products
The paw pad salve is excellent, works well for cracked paws. Haven't tried the shampoo soap yet but it smells great.